"Hey Joel, thanks again for joining our team. We are really excited to have you on board and can't wait to see the value you are going to add to the company! For our first order of business, the digital marketing department has been trying to fill a SEO Analyst position for a few months now. The hiring manager's notes say that they need experience with Adobe Omniture, SEO Conductor and Google Analytics. They also need to be proficient in SEM and familiar with Kenshoo, Marin or something similar. It's important that they have experience with high PR links and know how to scale the CTR while maintaining a solid CPC and CPA. The notes include that they want an all star with several years of experience who really knows their stuff. Any OMI certs are a plus and they would love to see a couple people with some PHP & Java know how in order to help with overflow from the web dev team. We know that you are going to knock this one out of the park for us. Thanks Joel."
The

story

This is how it typically starts when a member of the recruiting team is approached about a position the digital marketing department is trying to fill. They field the request just like any other, listening attentively and trying diligently to catch all the details. Wide eyed and excited about the upcoming hunt, they get out a pen and paper to take down some notes as the messenger quickly spouts off the information. By the end of the request, the receiver immediately knows he is in way over his head and is in trouble.

What this made up manager (although it happens quite often in real life) has just done is the equivalent of asking a general contractor to find a PC Solar Energy Field Technician when he typically builds residential homes for a living. He's going to look around at his group of plumbers and carpenters, then look you dead in the eye and laugh at what he assumes was your not that funny joke. He is used to working with skilled labor guys, not a specialized solar industry professional. Just because the upcoming job includes some solar panels that will need work does not in any way mean that this general contractor suddenly developed the years of knowledge needed to properly source a qualified technician.
The

truth

Digital marketing is an increasingly diverse field, with nooks and crannies of specialized knowledge sprinkled all throughout it. It is unreasonable to ask someone who isn't a professional in the industry to fill one of the industries toughest positions, just as it's unreasonable to ask the contractor to fill a solar energy role. Doing this seldom works and usually ends with the hiring manager, the recruiter, the candidates and the management team all being frustrated and confused as to why it happened. Joel thinks he sent the hiring manager some "really good" guys, the hiring manger asked one of the candidates to explain how to increase quality score (a "good question" he found online, it's not his specialty) and the candidate answered with something about LeBron James, the corporate team is stuck and  just wants the job to be done and the position filled with a quality employee and all the candidates that interviewed have a bad taste in their mouth about the company that just wasted their time. Everyone is upset all because Joel was asked to do something well outside of his skill set that he should have never had the responsibility of doing. He is great at finding new account managers, HR assistants and even high level managers, but Joel wasn't able to come through on this one job because it was an absolutely unreasonable request from the very start.
Consider

This

The mindset of having an in house team fill EVERY position that comes available is antiquated. I understand a growing company's bottom line and need to cut cost everywhere possible. Consider the amount "cutting cost" saves in one area can cost heavily in another though. For example the company mentioned earlier saved on an external fee but how much money did they lose in time from the botched interviews? How much in resources having Joel use an ATS for a month and a half without any results? How much impact from the negative morale between departments? How much unearned income because they don't have a quality candidate in that position now and haven't for the last four months?

Sometimes it makes sense to hire in house and sometimes it can hurt more than help.
The

Pros and Cons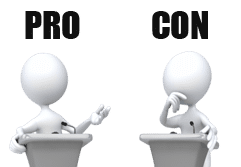 Deciding on the right candidate for an open position can be a complicated task. There is a time commitment involved because of the nuances of the process like writing job descriptions, conducting initial screening, filtering through candidates, conducting targeted outreach, etc. It is understandable that A LOT of companies elect to outsource the task.
How do you decide if it's worth it for your business though? Well, a good place to start might be a pro / con list. We took the liberty of compiling a sample one for you below.
PRO: Contingent (You Only Pay For Results)
Expert level recruiting companies (like us ?) will only charge you if you hire a candidate that is submitted to you. The cost is typically a percentage of the candidates first year annual salary and there is little to no risk involved. Most companies even offer a guarantee of 30 – 60 days. We offer 90 because we're over achievers.
CON: It's Expensive (But it's the Cheapest)
Fees typically range from 15-35%, which cost more initially than hiring in house. It can however save a fortune in time and avoided hiring mistakes in the long run, not to mention increased ROI if the candidate supplied is an all star.
PRO: Niche Contacts And Impressive Databases
"Hard-to-fill" positions come down to who you know and who they know. In the digital marketing space, there is not a plethora of highly qualified candidates out searching for jobs. Most get picked up within the first two weeks that they are on the market. With that being said, a network of passive candidates is extremely important. These are persons that are not "on the market" but are also not against hearing about opportunities in their space that could be a potential upgrade for them.
CON: Culture Matters
Finding the perfect fit means that the candidate must be a perfect cultural fit as well. It can be challenging if the company you have outsourced your recruiting needs to isn't dedicated to uncovering any expectation or personality differences.
*For the record, our candidates must submit a psychometric test, job assessment and personality test BEFORE being submitted to the client company. 
PRO: Working In Tandem
Most recruiters are completely comfortable working alongside your in house team to "fill in the gaps". Teamwork makes the dream work baby…I know we don't mind.
CON: Less Control
With any outsource effort, there is a simultaneous lessening of control over the process. If the company you've outsourced to isn't dedicated to their craft, this could be a real headache. The reciprocal of that is that if they are dedicated, it will be a relief to pass the work load along and relieve some of the stress you and your internal team might be facing.
PRO: QUALITY
This is possibly the strongest selling point for using a recruiter. QUALITY. An expert level, niche recruiting team can find better suited candidates, in less time, and for a lower cost than any non niche specific, internal team on the planet ever could.
The

 Bottom Line

In most cases; especially in the digital marketing sector, if you're asking yourself if you need a recruiter – you probably do. It's not likely you started asking yourself that at the very beginning of a search without putting any real effort into the search yourself. You gave it a shout and found out how convoluted and challenging to navigate the digital space is. There is no shame in leaning on thought leaders in the industry to find your perfect match. It's best to let the digital marketing experts hire YOUR next digital marketing expert, which frees you up to focus on the things you specialize in!